Skip Hire
Skip Hire in Reading, Basingstoke, Bracknell, Tilehurst, Twyford and Beyond
Our sister company R Collard provide excellent skip hire. They work with both domestic and trade clients.
They offer 4-yard, 6-yard and 8-yard skips, plus grab bags. On their site you can choose the size of skip you need. The capacity of each size is clearly explained, so you can easily pick the right size for your job. Then you can book your skip hire online, straight away, at any time.
They offer skip hire in in the following places and the surrounding areas: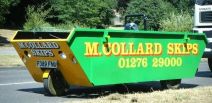 Aldershot
Basingstoke
Bracknell
Camberley
Farnborough
Farnham
Fleet
Reading
Tilehurst
Twyford
Windlesham
Wokingham
Woodley
They are friendly and helpful. They give good prices and excellent service. They provide quick delivery and prompt collection.
If you place your skip on a public road you will need a permit from the local authority.
Skip Sizes
Capacity

Height

Length

Width

2 Yard Mini Skip

1.5 metres
2 yards

0.76 metres
2.6 feet

1.2 metres
4 feet

0.91 metres
3 feet

4 Yard Midi Skip

3 metres
4 yards

0.97 metres
3.2 metres

1.83 metres
6 feet

1.29 metres
4.3 feet

6 Yard Skip

4.6 metres
6 yards

1.22 metres
4 feet

2.6 metres
8.6 feet

1.52 metres
5 feet

8 Yard Skip

6 metres
8 yards

1.22 metres
4 feet

3.66 metres
12 feet

1.68 metres
5.6 feet
Other skip sizes available:
10 - 12 - 14 - 16 yard skips
20 - 40 yard roll on roll offs
Enclosed skips available.